Adee App
Comprehensive color-blind simulator: Designing for accessibility
Updated: Feb 16, 2021
According to Color Blind Awareness 4.5% of the population are colorblind. There are many types of color blindness and Adee App helps you to have free access to 8 of them.
Here is a brief how Adee color-blind simulator can help you to check accessibility of your design.
To start, select the artboard/frame you want to check the accessibility then Plugin>AdeeApp.
💡Live view in Figma:
In Figma, now you can access your layers and navigate among them live when Adee plugin is open. No need to close or reload the plugin to update layers
8 different color blindness modes:
In the colorblind tab, you have access to a number of colorblind modes. You can also navigate among your artboards/frames and test them.
Zoom:
When you are in the single view, you can use zoom to have a closer look to the details of your design and how colorblindness can impact your design and audiences.
Compare with your normal view:
After applying a mode, select the double view to compare normal view of your artboard/frame.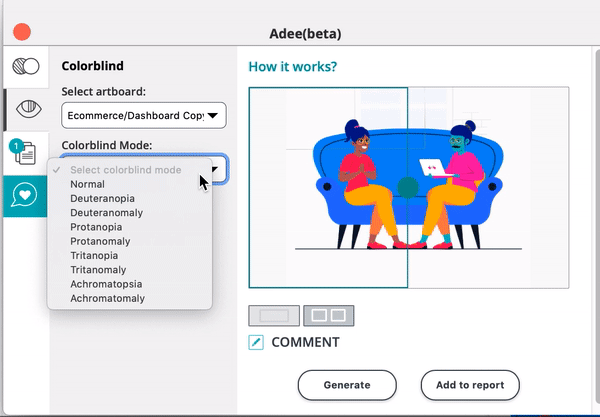 Generate with layers in it!
Select your modes and generate them with all the layers accessible.